配送ポリシー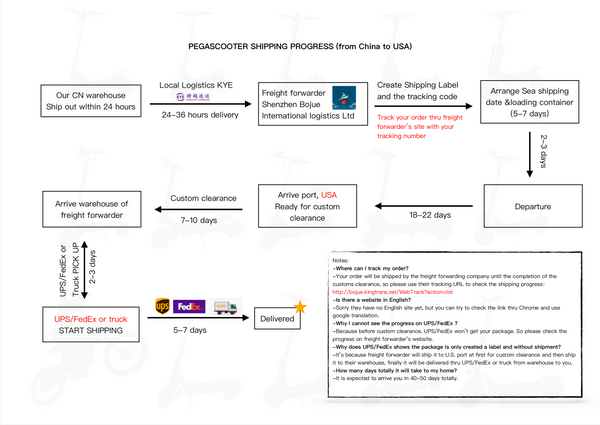 Our ebikes and escooters are a little bit big and heavy for shipping, so we send all our bikes by door to door freight service from our freight forwarder.  All shipments will require a delivery appt. so please double check you included the right e-mail and phone number so our Freight forwarder can arrange your delivery!  PEGA happily provides lift gate services for those who need it, but any other services will be done at your own expense (such as inside deliveries). 

Since 2022, we began to have our own warehouse in EU, so that the orders from EU stocks will be shipped out from our EU warehouse directly, usually it takes 5-7 days to arrive.(If you want to order the products from EU warehouse, Please order from our products that marked with EU WAREHOUSE. )Noted: The EU warehouse can only ship to who located in some EU countries.If your address is not available but you are living in EU, please contact us.
After you place your order and receive your order confirmation, it usually will be shipped within 1-5 business days, but also depending on the product series, we'll mark the production time on the product page.
Any orders that has been shipped cannot be refunded or cancelled during the delivery process. You can only initiate a refund upon receipt of the item and make sure the item is in good condition and unopened. We will provide your nearest receiving warehouse address for returns.
Due to the particularity of our products, we cannot provide door-to-door shipping in the following countries:
Argentina、Bolivia、Brazil、Chile、Colombia、Ecuador、Falkland Islands (Malvinas)、French Guiana、Guadeloupe、Guyana、Montserrat、Peru、Paraguay、Suriname、Uruguay、Venezuela、Afghanistan、Armenia、Azerbaijan、Bangladesh、Bahrain、Brunei Darussalam、Bhutan、Georgia、Indonesia、Israel、India、British Indian Ocean Territory、Iraq、Iran (Islamic Republic of)、Jordan、Kyrgyzstan、Cambodia、South Korea、Kuwait、The Lao People's Democratic Republic、Lebanon、Sri Lanka、Myanmar、Mongolia、Maldives、Nepal、Pakistan、Palestine、Qatar、Syrian Arab Republic、Tajikistan、Timor-Leste、Turkmenistan、East Timor、Turkey、Yemen、Andorra、Albania、Aland Islands、Ascension Island、Bosnia and Herzegovina、Saint Barthelemy、Belarus、Cocos (Keeling) Islands、Switzerland、Cyprus、Estonia、Faroe Islands、France Metropolitan、Alderney、Guernsey、Gibraltar、Isle of Man、Iceland、Jersey、Kosovo、Liechtenstein、Saint Martin、Moldova、Macedonia、Montenegro、Malta、Norway、Scotland、South Georgia and the South Sandwich Islands、San Marino、Serbia、Vatican City State (Holy See)、Yugoslavia、Angola、Burkina Faso、Burundi、Benin、Botswana、Central African Republic、Congo、Cote D'Ivoire、Cameroon、Cape Verde、Djibouti、Algeria、Zanzibar、Egypt、Western Sahara、Eritrea、Ethiopia、Gabon、Ghana、Gambia、Guinea、Equatorial Guinea、Guinea-Bissau、Kenya、Comoros、Liberia、Lesotho、Libya、Morocco、Madagascar、Mali、Mauritania、Mauritius、Malawi、Mozambique、Namibia、Niger、Nigeria、Reunion、Rwanda、Seychelles、Sudan、St. Helena、Sierra、Leone、Senegal、Somalia、South Sudan、Sao Tome and Principe、Swaziland、Chad、Togo、Tunisia、Tanzania、Uganda、Mayotte、South Africa、Zambia、Democratic Republic of the Congo、Zimbabwe、Antigua and Barbuda、Anguilla、Netherlands Antilles、Aruba、Barbados、Bermuda、Bahamas、Belize、Costa Rica、Cuba、Dominica、Dominican Republic、Grenada、Greenland、Guatemala、Honduras、Haiti、Jamaica、Saint Kitts and Nevis、Cayman Islands、Saint Lucia、Martinique、Mexico、Nicaragua、Panama、St. Pierre and Miquelon、El Salvador、Turks and Caicos Islands、Trinidad and Tobago、Saint Vincent and the Grenadines、Virgin Islands (British)、Virgin Islands (U.S.)、American Samoa、Bouvet Island、Cook Islands、Christmas Island、Fiji、Micronesia、Guam、Heard and Mc Donald Islands、Kiribati、Marshall Islands、Northern Mariana Islands、New Caledonia、Norfolk Island、Nauru、Niue、French Polynesia、Papua New Guinea、Pitcairn、Palau、Solomon Islands、Svalbard and Jan Mayen Islands、French Southern Territories、Tokelau、Tonga、Tuvalu、United States Minor Outlying Islands、Vanuatu、Wallis And Futuna Islands、Samoa、Aland、Republic of Serbia、St. Barthelemy、Caribbean Netherlands、The Democratic Republic of the Congo、Sint Maarten (Dutch Part)、Curacao、Timor-Leste、Guernsey、Jersey、Montenegro、Saint Martin (French Part)、United States Minor Outlying Islands


How long does shipping take?
Because we transport our ebikes or escooters by train/sea/truck standard, sometimes not all locations are deliverable.  We will let you know and ask for an alternative address in case we can't deliver to where you are living. 
The shipping time varies according to the global shipping form, We promise to ship within one week of receiving payment, but cannot guarantee the exact time of arrival, we will take the fastest shipping method possible.Generally speaking the reference shipping time is:

1. 30-45 working days to the UK and European countries

2. 30-50 working days to the United States and Canada

3. 15-25 working days to Southeast Asian countries and Australia

4. 30-45 working days to Saudi Arabia and the United Arab Emirates

If you want air freight service (10-15 business days to arrive), please purchase an air freight card at the same time. Our default shipping service is free, but if using air shipping, we will charge the corresponding price.

How can I track my order?
Due to our door to door freight is delivered by sea shipping/truck shipping/train shipping,we will send you the tracking number and the tracking website, so that you will be able to track your own orders. You can contact our email If there is no tracking information, our service team will check the freight information and send you.
If you choose the air freight service, we will offer you the tracking number of the currier, you will be able to track your orders from the currier.

How much does shipping cost?
Our default shipping method is by sea shipping/truck shipping/train shipping, we offer door to door service so the shipping fees will include all VAT or TAXES. But if you want to get your order ealier, you can choose the air freight service in the products list, the freight for air freight depends on different models. You can choose the corresponding air freight service according to your order model.

Where does my order ship from?
PEGA is a global platform. Your order could ship from the PEGA warehouse based in China. We will select the nearest stock point for shipment.We hope to build our own storage warehouses in the US, UK, Europe and Australia in the future to dedicate ourselves to providing faster delivery services to our customers, we are working on it, so stay tuned.

How do I change my shipping address?
Before placing your order on PEGA, you can change the shipping address directly in your shopping cart.
If your order was placed within the first 8 hours, You can contact the website customer service or send an email to modify it.
Once your order has shipped, it's no longer possible to change the address. We recommend contacting your local post office with your tracking numbers when your orders arrive your country to see if they can reroute your order to another address.

● Delivery time: Total Delivery Time = Processing Time + Shipping Time
● Processing Time: Before shipping your order, normally we need 1-5 business days to prepare your products, do strict quality-control tests and carefully package the items. So the processing time is separate from the shipping time.
● Estimated Shipping time: Default shipment from Chinese warehouse takes 30-45 working days, the air freight takes 10-15 working days and US/EU/UK warehouse shipment takes 3-7 days(in the furture).
● We will update the tracking number by email after the order shipped, and you can also find the tracking number on your account.
● Delivery time may vary, especially during the peak periods. Please be more patient.